It's been ages since I formally spoke with You. I seem to sleep right after I begin to pray.
(Sorry about that.)
Anyway, I want to discuss something important: Dakota Fanning.
It has come to everyone and their mothers' attention that Dakota Fanning has blossomed into a gorgeous young lady. Remember the time she was adorable in
I Am Sam
? And then she grew up a little and did that Oprah version of
Charlotte's Web
? Remember those hideous braces glinting in the sunlight as she, the dear thing, smiled so happily for the camera? Somehow, in Your own mysterious and unfathomable way, You managed to create a total beauty. At the tender age of fourteen: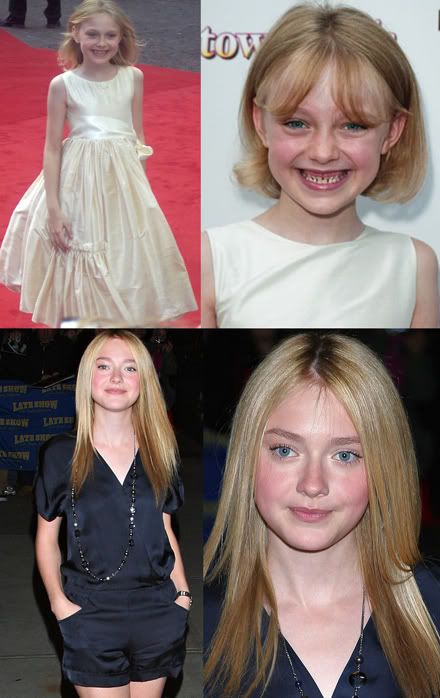 I would like to sincerely thank You for showing the world that a tweener can look both demure and polished, unlike some other grimy mall-rat *cough*miley*cough*. Somehow, it gives me hope for the young 'uns. I would just like to ask:
When is my super sparkly awesome transformation fashion montage
Pretty Woman
makeover gonna happen?
While I acknowledge that everything happens in Your time, it would be really great if this super sparkly awesome transformation fashion montage
Pretty Woman
makeover happened soon. Like within this year.
That would just be truly awesome. Epik awesome. Biblical awesome, even.
Thank You and all glory to Your name,
Amen.
Dear God,



*kicks imaginary pebble*




[EDIT: my conscience is bugging me: WASH YOUR HANDS WITH SOAP, PEOPLE.]
I was going to wish everyone a Happy Global Handwashing Day but my new phone got stolen. So...boo.





>A snippet in the life of Abi.
AS I am drawing a man in a suit, I am constantly looking at an image that I bookmarked on my browser. It feels a bit weird to be staring at an image that I have no interest in and particularly crack-y since the guy is doing the whole smoldering eyes at the camera.